Meet Dr. Daniel Migliarese
Finding Better Health Through Chiropractic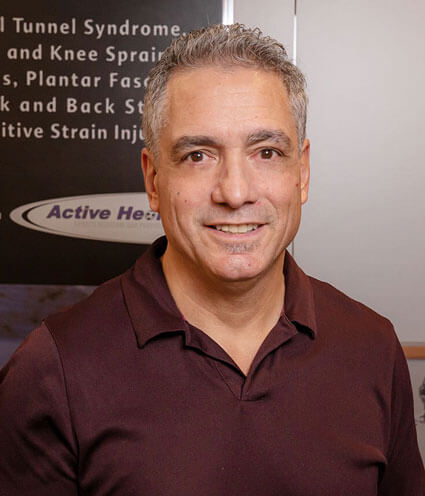 When Dr. Dan was 17, he decided to become a chiropractor. His then-girlfriend experienced terrible headaches and found relief through chiropractic. Though he didn't have any health problems, Dr. Dan started going and found it improved his range of motion and sense of well being. "I liked that there were no drugs, surgery or needles necessary to help people."
Professional Training and Qualifications
To complete his education, Dr. Dan attended the University of Western States in Portland, Oregon. While there, his wife's headaches returned. Dr. Dan was learning more about muscle and deep tissue work. He found that a combination of these methods with chiropractic adjustments alleviated her severe headaches and neck pain. Seeing these results, Dr. Dan knew he would use this same combination to help his patients.
The additional qualifications Dr. Dan has earned include certification in acupuncture from McMaster University in Hamilton, Ontario. He is also a registered massage therapist. To provide muscle work, he became certified in Active Release Techniques® at all levels.
EXPLORE CHIROPRACTIC »

A Focus on Active Living
Dr. Dan has worked with a number of professional athletes. He has seen NFL players, professional boxers, synchronized swimmers, Olympic gymnasts and wrestlers, professional golfers and professional football players.
In his spare time outside Active Health, Dr. Dan likes to ski, run and bike ride. He has two sons and a daughter with his wife, who he has been married to since 1981. His large family in our community includes five brothers and a sister. Whenever he can, he loves to be with his grandchildren.
Get in Right Away
If you're in pain, you don't want to have to wait for an appointment. We can get you in on the same day or the next day. Contact Active Health today!

Dr. Daniel Migliarese | (403) 517-1421