Acupuncture at Active Health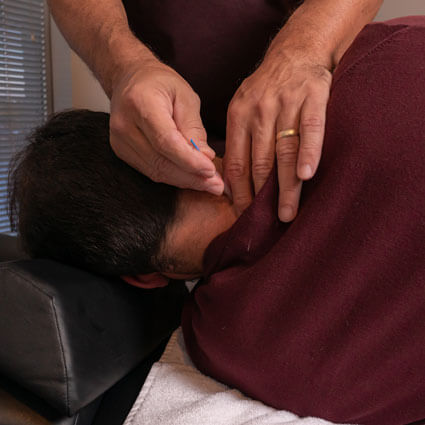 At Active Health, we work with people who want to get out of pain or improve their lifestyle. Dr. Dan has been in practice since 1986. Over the years, he has had the privilege of serving numerous people in our community.
Often, our patients are active people and athletes who want to return to their sport or enhance their overall performance. No matter what your particular goals are, we will be happy to help you achieve them through our natural solutions.
Who Acupuncture Is Right for
Acupuncture is ideal for areas of the body that are tight. You may refer to it as a "knot" or have spasms. These areas don't loosen easily on their own. The insertion of an acupuncture needle can address these satiations so that you can find relief.
When it comes to sports acupuncture, we seek to reduce muscle tension and inflammation. We can release areas of spasm or decrease the inflammation in your body.
When you hear the word "needles," you probably think of the ones used at the doctor's office for injections. Acupuncture needles are nothing like those. They're thin, and we use one of the smallest forms available. They're more of a hair-like thickness than anything you'd use when getting a vaccination.
It won't hurt like a typical needle would, either. Most people feel nothing at all or a small pinprick that is similar to a mosquito bite. What you may feel is the knot being worked out when the needle is inserted. You won't, however, feel the needle piercing your skin.
Dr. Dan was educated in acupuncture at McMaster University in Hamilton, Ontario. He's used acupuncture for several years as an adjunct to his care. Along with acupuncture, he may recommend chiropractic adjustments and muscle work to help you get out of pain. It was during his education at The University of Western States that he first discovered the power of combining the chiropractic adjustment with other modalities.
In practice today, Dr. Dan routinely addresses his patients' concerns using a combination of acupuncture, chiropractic and muscle work such as Active Release Techniques®. He is certified in all levels within this method.
When you come in for your visit, you may have a combination of our services. If you do, your appointment will begin with Dr. Dan working on your muscles to see how they're feeling. Acupuncture can further loosen up the muscles if need be. Following acupuncture, Dr. Dan will repeat some muscle work. Then, you'll be given a hands-on chiropractic adjustment.
How will I know if I need acupuncture?

When you come to our office, the first step is to have a thorough consultation and examination. We want to know everything you're concerned about and what your goals are. For example, you may want to get back to your running routines. We'll work with those specific desired outcomes. After your examination, we can determine which of our services or which combination of our services is best in addressing your problems.
What if I feel uncertain about getting acupuncture?

You are under no pressure from us to get acupuncture. If you feel nervous, you can just let us know and we will not use it as part of your care.
How many sessions will I need?

The number of acupuncture sessions you'll require will depend on the nature of your problem and what you hope to achieve. We'll discuss what you can expect at your initial consultation so that you can move forward, feeling fully informed.
How long will I have to continue care?
There is no "have to" at our clinic. You're only here for as long as you want to be. We work with people who simply want to achieve pain relief. Others are interested in finding out how to prevent their problem from returning or to stay healthy in the longer term. You are free to discontinue your care whenever you choose. If you feel you need us again, it's as simple as giving us a call and booking another appointment.
We don't ask you to buy into extended care plans or stick around for life. We see our role as one of serving you—you're always the boss.
Give Us a Call Today
Find out more about sports acupuncture Calgary SE and how we may be able to help you. Contact our friendly team today to schedule your first appointment! We often have same-day or next-day visits available.
CONTACT US »

Acupuncture Calgary SE AB | (403) 517-1421